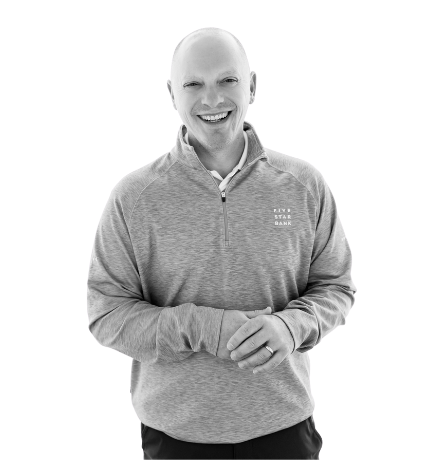 Senior Vice President, Director of Specialty Finance, Specialty Finance Banking Group
Jason Hartmann has over 22 years' of experience in commercial banking, including 8 years specializing in emerging growth and technology banking in the Silicon Valley and a subsequent 14 years of specializing in commercial middle market and commercial real estate lending in the Bay Area and Sacramento Regions. Jason joined Five Star Bank in February 2013.


While Jason has experience working with all industries and business models, at Five Star Bank he has built-out the Specialty Finance Division which has a specific focus on financing and servicing treasury and cash management needs of both Manufactured Housing Communities (MHCs) owner/operators and self-storage owner/operators. This division has seen significant growth over the past 7 years and Five Star Bank is considered an industry expert in both asset classes.


Jason represents Five Star Bank in the Roseville Chamber of Commerce, Rocklin Chamber of Commerce, and is a coach and the Assistant Director of the Woodcreek High School Mountain Bike race team. He is also an Allegiant Giving Partner. Jason also represents Five Star Bank in the Western Manufactured Housing Association (WMA) and the California Self-Storage Association (CSSA).


Jason holds a Bachelor of Science degree from the University of California at Santa Barbara where he studied Macroeconomics and was an officer of the UC Santa Barbara Gaucho Rugby Club.

Watch Jason Hartmann
& Eli Weiner's Video.