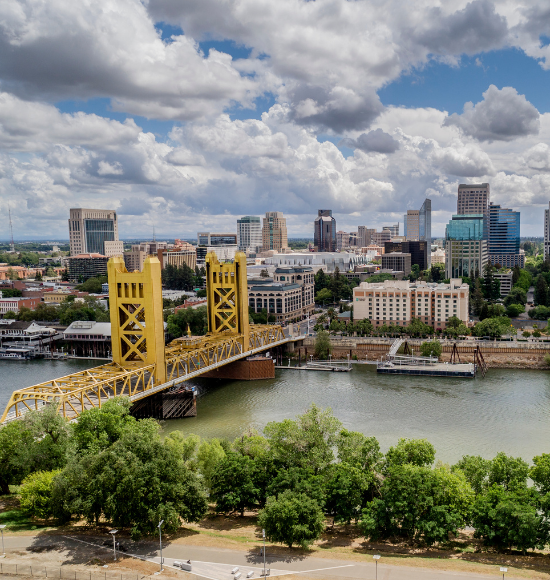 Serving Customers & Communities Since 1999
Five Star Bank was founded in 1999 by a group of local entrepreneurs who wanted to create the kind of personalized banking services they desired themselves – services inspired by partnership and defined by shared vision and goals. Today, Five Star Bank is guided by purpose-driven banking, community stewardship, regional and industry expertise, a speed to serve and a commitment to economic development in the communities we serve.
Community
Involvement
At Five Star Bank, we seize opportunities, embrace challenges and value the intrinsic reward of serving others. By reading our Community Impact Report below, it is our hope you fully understand Five Star Bank's extensive commitment to our community's most vulnerable, underserved and underrepresented. We are grateful to be a source of strength for our customers and advocates for our community and our region's nonprofits. Five Star Bank stands on a sturdy foundation of what we have built together so that we may encourage, support and strengthen those who need us most.
As a community business bank, we believe in action over words and recognize it is the effort of our entire team that allows us to donate, volunteer, engage and lead. On a continual basis, we work through enhancements to our community outreach efforts. We always will. We are focused on the health and success of our employees, shareholders, customers and community partners so that we may continue to fulfill our purpose as stewards of the communities we serve.
Chambers of Commerce
We are active members in the following Chambers of Commerce:
Chico Chamber of Commerce
Elk Grove Chamber of Commerce
Folsom Chamber of Commerce
Lake Almanor Chamber of Commerce
Orangevale Chamber of Commerce
Rancho Cordova Chamber of Commerce
Redding Chamber of Commerce
Rocklin Chamber of Commerce
Roseville Chamber of Commerce
Sacramento Asian Pacific Chamber of Commerce
Sacramento Black Chamber of Commerce
Sacramento Hispanic Chamber of Commerce

Sacramento Metro Chamber of Commerce

The Indus Valley American Chamber of Commerce

West Sacramento Chamber of Commerce

Yuba Sutter Chamber of Commerce
Women in Business
Five Star Bank connects women in business to create networking opportunities and meaningful relationships. Watch our video to learn more. 
Five Star Bank Video

 
Let the communities we serve inspire you to become a Five Star Bank customer! 
Awards & Recognition 
Five Star Bank is proud to be recognized and honored by our peers. 
Sacramento Business Journal's Best Places to Work 2020 and 2021
Sacramento Business Journal's Fastest Growing Companies 2020 and 2021
2019 Sacramento Metropolitan Chamber of Commerce Businessman of the Year: James Beckwith 
2020 Sacramento Business Journal's 40 Under 40: Jen Matulich  and Lydia Ramirez
2020 Sacramento Business Journal's Most Admired CEOs: James Beckwith 
2021 Sacramento Asian Pacific Chamber of Commerce, Corporate Steward Award
2021 Comstock's Magazine Woman in Leadership: Lydia Ramirez
2021 Vistage Leadership Award: James Beckwith
2021 Sacramento Business Journal's Corporate Champion of the Year Award
Ratings
Bauer Financial Superior Rating - 5 Stars (out of 5)
IDC Superior Rating
The Findley Report: Super Premier Performer
Small Business Administration: Preferred SBA lender

(Ranked 14th in the nation for SBA Loan Production as of SBA fiscal year end 9/30/2020)
Selected Community Support:
2020 City of Sacramento Loans
In 2020, we seized new opportunities such as the City of Sacramento's loan and grant processing project associated with the CARES Act which pushed dollars to microbusinesses who needed it most. Our team processed over 1,500 disbursements totaling almost $11 million. We are, always, moving forward.
"My experience with Five Star Bank during the city's grant process was great. I am very grateful for Five Star Bank because they made the process super easy and they were always there to help. They turned a horrible situation into something good for the artists who were going through a very rough time. It was quick and easy and Five Star Bank was there to answer my questions."
Executive Producer, Golden Media Productions 
Del Paso Del Nuevo Development & Addressing Food Deserts
Del Paso Del Nuevo Development 
The Del Paso Del Nuevo Development is affordable housing in a federally designated economically distressed opportunity zone and a low-income census tract where the median annual income is $38,000 and 45% of residents are renters. Del Paso Nuevo seeks to change those demographics, turning renters into homeowners. The project ran into several funding obstacles until Five Star Bank loaned the developer funds from its Five Pillar Program. This program enables Cities, Counties and Districts to direct funds to local community banks for the purpose of reinvesting that money into the local economy.
A food desert is a community with limited access to affordable and nutritious food, in contrast to a food oasis with higher access to full-service supermarkets and farmer's markets. The lack of access to nutritious food is a social determinant of community health. The Del Paso Heights community is located in a federally designated economically distressed opportunity zone where 44% of residents live below the poverty line. Five Star Bank is proud to have provided capital to develop two full-service supermarkets in Del Paso Heights. This funding offers community residents easy access to more nutritious food options.
Fire Relief 2021
Our employees, customers and community were directly or indirectly impacted by the Caldor Fire and Dixie Fire in Northern California.  Five Star Bank made a $20,000 donation to the Del Oro Division of the Salvation Army to offer relief to those affected. Others joined our efforts in giving, donating and volunteering. 
Mercy Foundation North is located in an area impacted by several wildfires in the last years including the Carr Fire, the Camp Fire and the August Complex Fire. Mercy provided resources to support displaced community members during the fire. They continue to see many patients who have significant respiratory challenges resulting from wildfire smoke. Five Star Bank donated $10,000 to Mercy  Foundation north to support their food bank and provide additional resources for respiratory patients. In addition, Five Star Bank facilitated a matching grant from the Federal Home Loan Bank San Francisco Wildfire Fund.
2020 Covid-19 Nonprofit Donation Response
In response to Covid-19, Five Star Bank made $50,000 in additional donations to support nonprofits in need.
Five Star Bank funded a City Year Sacramento Yellow Jacket for the academic year 2020 - 2021 at Oak Ridge Elementary to ensure equitable educational experiences, social-emotional support and mentorship that leads to higher graduation rates for those in need. Five Star Bank's Sponsorship Impact allowed for 1,700 service hours, 180+ tutoring hours, 5 attendance mentees and 12 academic mentees.  It is notable that 48% of students tutored by City Year met or exceeded growth targets in English Language Arts and 32% of students tutored met or exceed growth targets in Mathematics.
Sacramento Regional Conservation Corps.
Five Star Bank donated $10,000 to SRCC to help train tomorrow's workforce. SRCC provides on-the-job training and community education as well as employment in vegetation clearing, litter abatement and roadway maintenance.
"We are so grateful to Five Star Bank for being long-term supporters and advocates of Corpsmembers and the work of the Sacramento Regional Conservation Corps."
Paula Birdsong, Executive Director, Sacramento Regional Conservation Corps.
Cristo Rey High School Sacramento
Five Star Bank supports the meaningful work of Cristo Rey High School Sacramento which serves students from low to moderate income communities who have little financial and emotional support while also providing our employees with the intrinsic reward of mentoring the next generation of leaders. Through the outstanding support of Cristo Rey High School Sacramento, over 98% of CRHSS students are accepted into colleges and universities.  
Five Star Bank's 2020 Impact:  Over $71,500 raised and donated and 3 students mentored at Five Star Bank through work experience hours.
2020 University Partnerships 
Five Star Bank actively supports and engages with college and university campuses in our community to ensure our educated workforce stays local. Five Star Bank executives also teach college classes as guest lecturers to provide students with real-life perspectives. Our leadership programming helps prepare students for success.
Sacramento State University $10,000 Sponsorship
"Five Star Bank is an extraordinary supporter of the Business Honors Cohort. The close partnership we enjoy connects our students with businesses and brings new perspective and innovative best practices to our classrooms." 
Dr. Pingsheng Tong, Faculty Director, Business Honors Program
University of the Pacific $13,750 Sponsorship 
"Students who engage with Five Star Bank are inspired and motivated. Beyond elevating leadership skills, this partnership is boosting students' confidence in approaching their careers in an unusually difficult economic environment. We are excited to collaborate in the development of future leaders with Five Star Bank's exceptional team.


Margaret Roberts, Director, Eberhardt Career Management Center
UC Davis $12,500 Sponsorship
"Five Star Bank was one of the first corporate partners to recognize the impact that the Aggie EVO System has. Their generosity, wisdom and partnership are enormous contributors to our ability to help student athletes better know and navigate the world of work."
Dr. Michael Lorenzen, Executive Director, EVO
Sacramento Asian Chamber of Commerce Partnership
In 2020 & 2021, Five Star Bank funded a Program Manager position with the Sacramento Asian Chamber of Commerce's Chamber's Connecting Diverse Communities Program (CDCP) through a donation of $60,000, per year. This donation funds the salary of a Project Manager who connects minority-owned businesses with funding opportunities to support their business, including but not limited to, government funding, capital resources and business coaching.
"The Sacramento Asian Chamber of Commerce is grateful to work with Five Star Bank which advocates for the strength, resilience and vitality of our region's businesses." 
Pat Fong Kushida, President & CEO
Sacramento Asian Chamber of Commerce
Five Star Bank understands small businesses.
Cathy Rodriguez Aguirre, President & CEO, Sacramento Hispanic Chamber of Commerce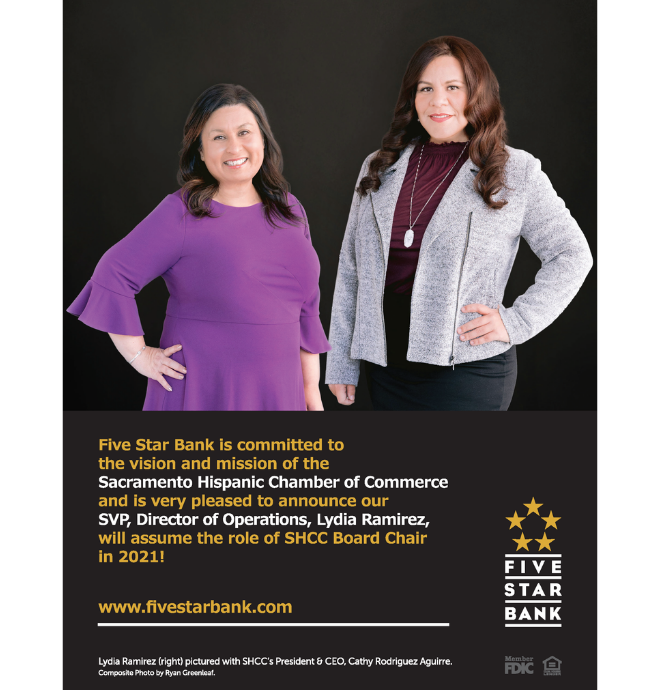 Five Star Bank helps us to be the school that works.
David Perry, Ed.D. President, Cristo Rey High School.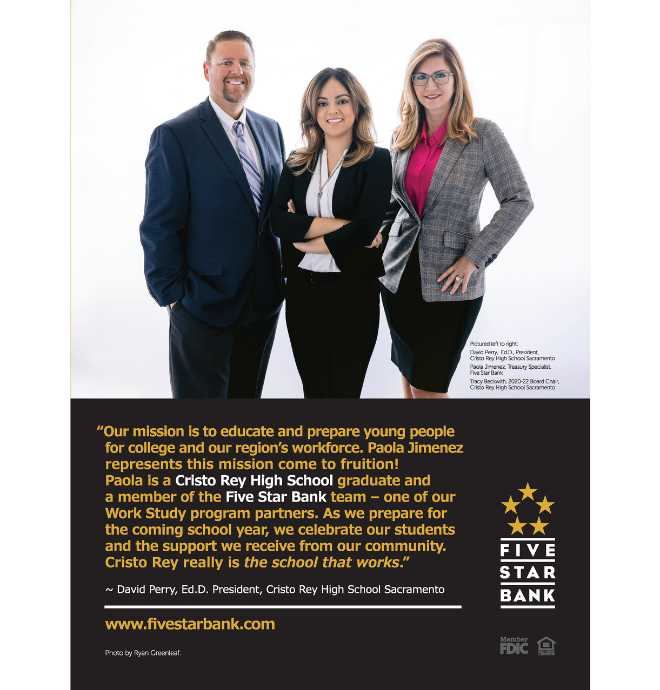 Five Star Bank exists to serve our customers and our community.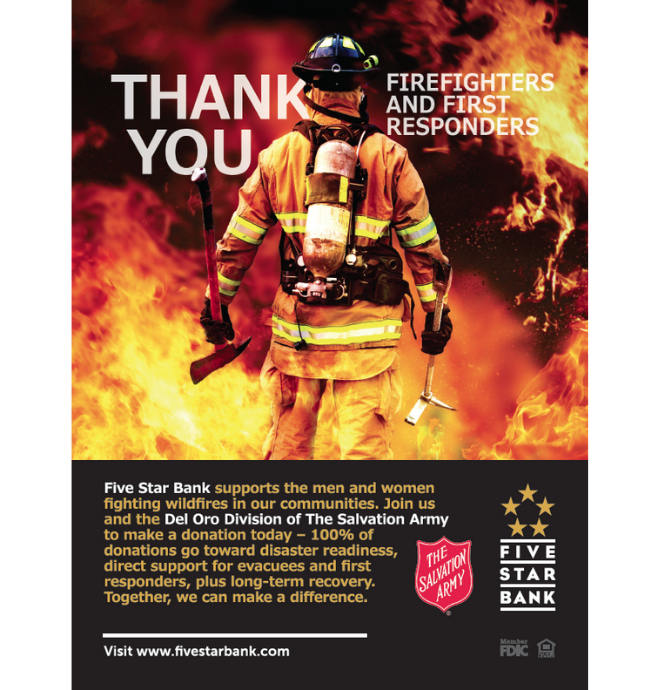 "Nonprofits really depend on a relationship - a DIRECT relationship - with their bank. And that's what we have with Five Star Bank."
Paula Birdsong, Executive Director, Sacramento Regional Conservation Corps.
"They were there when I needed the confidence to begin my radio show and podcast. Five Star is THE entrepreneur's bank! "
Mark Haney, Founder & CEO, Haney Biz & Founder, Growth Factory
"Five Star Bank understands livestock and they understand farming. They helped me when others didn't." 
Bob Lent, President, Elk Grove Milling, Inc.