Postured for Growth: How a Team of Women Breached $1 Billion in Assets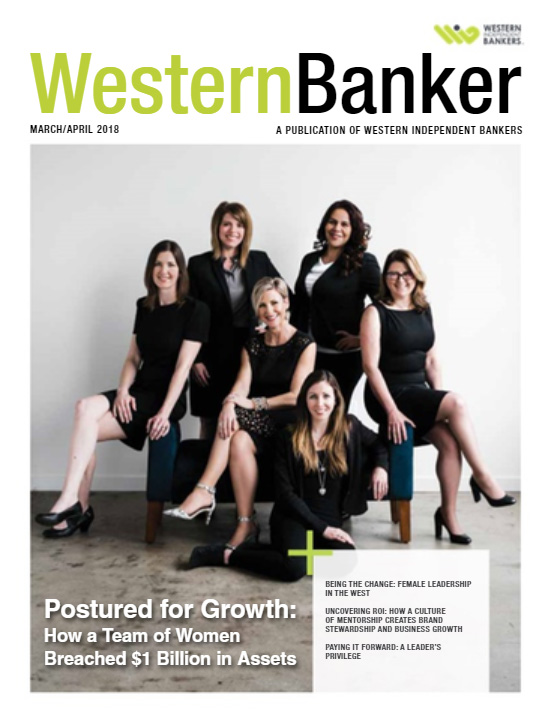 It was the 2nd Quarter of 2017 when Krista Snelling, Executive Vice President & Chief Operating Officer at Five Star Bank, explained to the bank's Board of Directors that management and staff had been preparing for $1 Billion for over two years.
The Board knew this to be true, having offered guidance since the bank's inception in 1999, yet there was a collective sigh of relief. Preparing for $1 Billion had been an extraordinary undertaking. Bank management had reviewed the imminent impact on staffing, operations, core systems, business development, financial modeling, regulatory compliance and the overall customer experience.
A financial institution can not be overly prepared when reaching growth milestones. Early on, it was agreed communication among departments would ensure everyone moved along the same trajectory, at the same pace, with the same goal. It was also clear that a team, largely led by women, from the Board level to bank management, would be responsible for making it happen.
The women who had significant leadership roles ensured the bank melded big bank expertise with community bank sensibilities to create effective, seamless and sustainable solutions for bank staff, customers and shareholders. How did they do it?
"We have a culture of high performance at the bank," explained President & CEO,
James Beckwith
. "This includes women who are committed to the bank's growth strategies and understand the impact on the entire organization. They provided continuous, thoughtful and well-executed leadership at all levels."
The Board includes Crystal Coleman, a Principal with CliftonLarsonAllen LLP, who recognized the bank needed to adapt to changes in the industry in order to be sustainable beyond $1 Billion.
Adapting included ensuring business development efforts worked in tandem with operations. "Bringing new customers to the bank, and nurturing our niche markets, had a profound impact on the growth of our balance sheet," said Snelling. "Creating synergy between sales and operations was critical to the bank's success." Lydia Ramirez, Senior Vice President, Director of Branch Administration, said her attention swiftly moved from branch operations, to central operations, to eBanking, which ultimately led to one strategy instead of three. "We reviewed current policy and procedures with regard to overall branch functions and looked at partnerships within departments – especially sales and ops. Utilizing one another to gain momentum to catapult us beyond $1 Billion was not only critical, it was the key to nurturing customer expectations while hitting business development goals."
In addition to sales and operations, new reporting standards and regulatory infrastructure were top priorities. If we were going to be in a different league, we needed to adopt a new core system and embark on a significant system conversion. In stepped Vice President, Senior Credit Administrator, Stephanie Petrakos, and Heather Pugh, Credit Administrator. "I was responsible for overseeing implementation of a cloud-based system that included customer relationship management, loan origination and workflow, content management and reporting capabilities," said Petrakos. Petrakos enlisted the help of Pugh who is responsible for data integration, system configuration and customization of the platform to meet the bank's needs. "In the past, when we were smaller, there was duplication of efforts. We needed a loan origination platform to reduce redundancies. The catalyst was the bank's movement toward that $1 Billion mark. The new system was designed to promote teamwork and connect all of us, across departments. We'll continue to be bigger, stronger, better, faster. This isn't the end."
Growth requires never-ending flexibility where rules change, goals are modified and strategies re-tooled. "The biggest thing on my mind was how we increase our level of sophistication commensurate with our size, while also maintaining the high-touch, personalized services our customers had grown to love and expect," said Snelling. "Communication with key stakeholders, from customers to community partners, was more important than ever."
Shelley Wetton, Vice President, Communications & Community Relations, set her sights on ADA compliance standards and regulatory reporting which required more than an online brochure. "To best serve customers and community partners, our website has to be a hub of information that educates and inspires," said Wetton. "Our new site will be a sales tool for prospects, while helping current customers maximize eBanking and other services." Five Star Bank's goal is to ensure stakeholders get the information they need, when they need it. Wetton added, "When the site goes live, it will be a very proud moment."
Proud is a word often used by this group of women who share a tremendous sense of accomplishment. "Great pride comes with surpassing growth goals and financial milestones," said Beckwith. "Now, with this team in place, we look well beyond $1 Billion as we continue to serve our customers and our community."