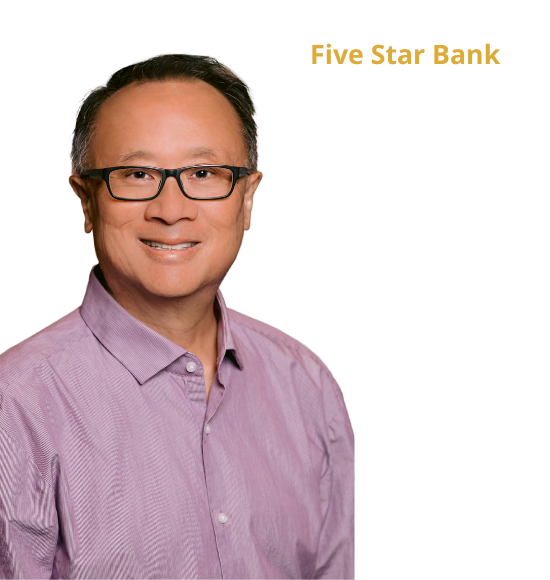 Serving Customers & Communities
Since 1999
Five Star Bank was founded in 1999 by a group of local entrepreneurs who wanted to create the kind of personalized banking services they desired themselves – services inspired by partnership and defined by shared vision and goals. Today, Five Star Bank is guided by purpose-driven banking, community stewardship, regional and industry expertise, a speed to serve and a commitment to economic development in the communities we serve.
Awards & Recognition
Five Star Bank is proud to be recognized and honored by our peers.
Sacramento Business Journal's 2022 Most Admired CEO (Shannon Deary-Bell, Board Director)
Sacramento Business Journal's 2022 C-Suite Awards (Michael Rizzo)
Sacramento Business Journal's 2022 Women Who Mean Business (Lydia Ramirez)
UCP of Sacramento & Northern California's 2022 Humanitarian of the Year (James Beckwith)
Sacramento Business Journal's 2022 Fastest Growing Companies
Sacramento Business Journal's 2022 40 Under 40 (Lakhwinder Kaur)
Ratings & Rankings
Bauer Financial Superior Rating - 5 Stars (out of 5)
IDC Superior Rating
The Findley Report: Super Premier Performer
Small Business Administration: Preferred SBA lender
(Ranked 31st in the nation for SBA Loan Production for three months ended 09/30/2022)
2021 S&P Global Market Intelligence Top 100 Best-Performing Community Banks in the nation (banks with assets below $3 billion)
2021 Raymond James Bankers Cup award recipient
Our bankers are experts in specialized industries and understand your business.
What is it like to work with Five Star Bank?
Tim Murphy, CEO, Sacramento Regional Builders' Exchange
"Five Star Bank is not just our bank - they are a key partner in helping us serve the Capital Region's commercial construction industry. As always, Five Star Bank has our back."
Cathy Rodriguez-Aguirre, President & CEO, Sacramento Hispanic Chamber
"Five Star Bank was there when we needed support. Five Star Bank was there when our small businesses needed someone to listen to them."
Julie Hirota, CEO, Saint John's Program for Real Change
"Saint John's Program for Real Change is grateful for Five Star Bank's responsiveness, service and partnership. Their service allows us to continue our mission work and strengthen our community."
Mark A. Wiese, President, Pacific Housing, Inc.
"Five Star Bank understands our nonprofit's mission to provide affordable housing and services. They support our goals and work with us to help further our impact throughout the State of California. Five Star Bank has gotten to know our organization on a personal level and we appreciate the speed of service, industry expertise and high-quality care that they provide us with. In short, they make it easy."
Baljit Bal, CEO, Bal & Associates CPA Inc.
"Five Star Bank is very proactive, always has our back, provides stellar service and works tirelessly to find solutions to help us achieve our goals."
Kellie DeMarco, President, Kellie DeMarco Communications
"Five Star Bank has been there for me since the very beginning. When you start your business, it can feel overwhelming, but I knew I could pick up the phone and talk to someone any time I needed them. I see what Five Star Bank does for other women-owned businesses like mine and I'm blown away by the love and care. I'm grateful to have Five Star Bank in my corner!"
Shahnaz Van Deventer, Director of Marketing & Development, SMUD Museum of Science and Curiosity (MOSAC)
"The best way to describe Five Star Bank is community champions! Their leadership and staff are committed to lending their expertise to support our community in challenging times and help our community thrive in good times."
Andrea Casillas, Owner & President, Group Concepts
"Moving my bank accounts to Five Star Bank was one of the best decisions I have made as a business owner. I highly recommend Five Star Bank to any business."
Five Star Bank is proud to support practice and professional services clients through purpose-driven and integrity-based banking solutions. 
Lakhwinder Kaur
SVP, Sacramento Valley Market President
Five Star Bank is proud of to support family-owned businesses.
Jason Hartmann
SVP, Director of Specialty Finance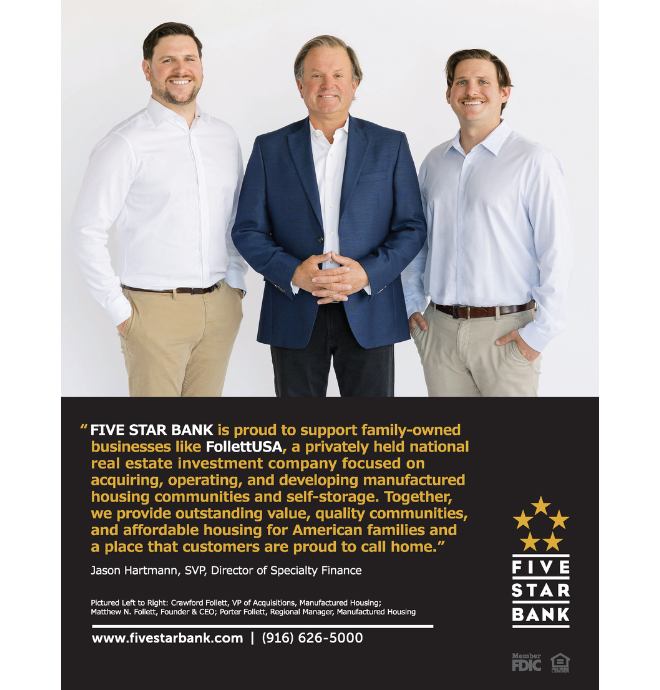 Five Star Bank was founded to serve and connect the commercial real estate and construction industries' developers, contractors and sub-contractors.
Jen Matulich
SVP, Business Development Officer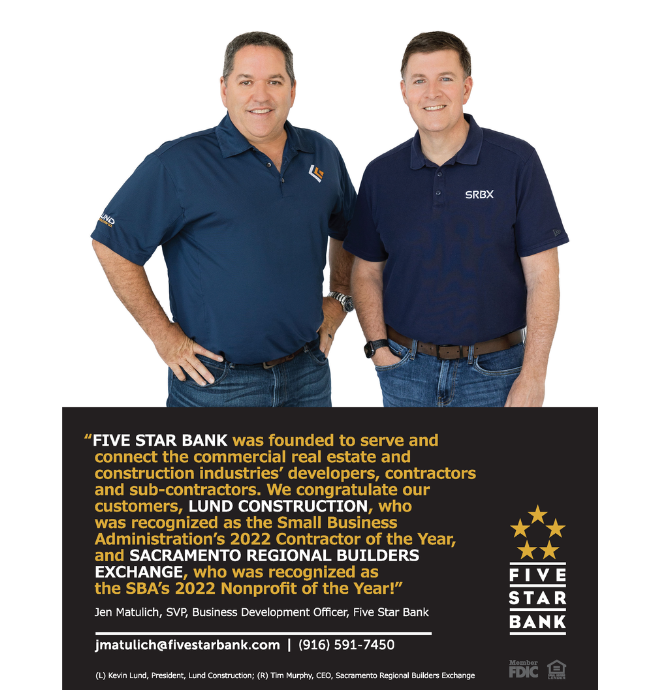 Interested in learning more about how Five Star Bank serves our clients? Contact us using the button below.
"Nonprofits really depend on a relationship - a DIRECT relationship - with their bank. And that's what we have with Five Star Bank."
Paula Birdsong, Executive Director
Sacramento Regional Conservation Corps
"Our relationship with Five Star has been incredible. They care about the services that we provide. And they care about people in our community."
Blake Young, President & CEO
Sacramento Food Bank & Family Services
"Five Star Bank is the entrepreneur's bank and when an entrepreneur succeeds, it creates an enormous impact on our community."
Mark Haney, President & CEO